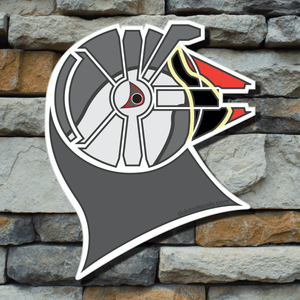 Millennium Puffin Star Wars Decal
Hey, why can't it be the Millennium Puffin? Sounds better than Millennium Parrot, Millennium Macaw, or Millennium Cuckoo. And while Millennium Cormorant or Millennium Swift do sound pretty good, we're sticking with Puffin. This is a single piece, contour cut high quality vinyl decal.
Decal sizes are based on maximum dimension (length or height). Each decal is supplied with a low-tack clear application tape for ease of install ("PEEL-STICK-PEEL" method). Also included is a quick start set of helpful instructions, as well as a small sample practice decal.
This one-of-a-kind Star Wars decal can only be found here at Dukes Decals. This product is contour cut from high quality vinyl, and will have everyone you know asking where they can get theirs. The material used is indoor/outdoor rated, and can be placed on any flat surface, as well as simple curves. I can also customize just about any decal you will find here, so please don't hesitate to
contact me
if you'd like to personalize any of my designs in some way.
Original concept/artwork copyright © Dukes Designs LLC 2015 - No reproduction allowed without permission.