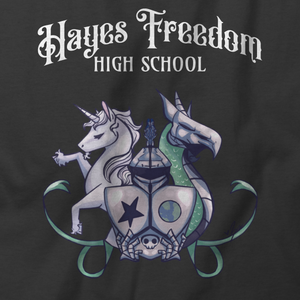 Hayes Freedom High School Standard Hoodie
HFHS High School Standard Pullover Hoodie.
Standard Unicorn, Dragon, & Knight Logo printed on back, with smaller logo and the "Kind, Proud, Fearless" motto on front.  Black or Dark Green apparel.
If you'd like "SENIOR 2023" to be added to the right sleeve of your hoodie, please choose "YES" for that option.  There is a $5.00 adder for that customization.
PLEASE NOTE: Your order will NOT be shipped out, but will be picked up when finished by HFHS Staff for delivery to the student.
Apparel Sizing Info HERE and HERE.